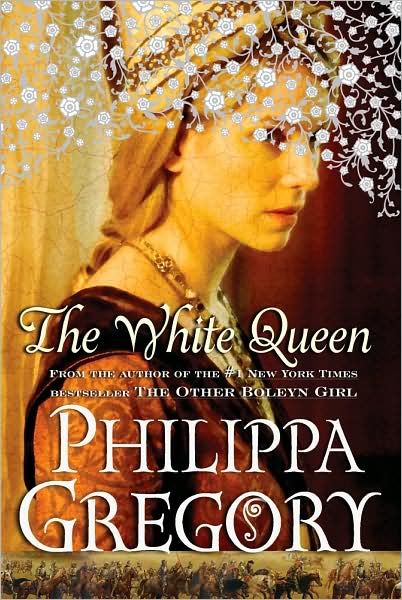 To get jumpstarted this weekend, I'm posting a review of the upcoming novel,
The White Queen
that I did at the end of June. It comes out August 18th, so you still have plenty of time to pre-order. :)
Title:
The White Queen, Book One of The Cousins' War Trilogy
Author:
Philippa Gregory
Reviewed Format:
ARC
Release Date:
August 18, 2009
Philippa Gregory's latest historical fiction release is, to put it mildly, absolutely amazing. I think this is one of her better books--on par with
The Other Boleyn Girl
. The scope of
The White Queen
is just as if not more epic, in terms of literary drama, than the rise and fall of Anne Boleyn at the hand of King Henry VIII. It focuses on The War of the Roses, a bloody war of politics and rival family members pitted against each other as the Yorks and Lancasters fought to become the next ruling family of England.
I didn't know much about this time in England's history except that the Tudors, as part of the House of Lancaster, are the winners and the symbol of Henry VII's unification of the two houses is the Tudor Rose. Of course, since it's a war of cousins, as soon as I began reading, I had a hard time keeping track of this huge family and found a really handy family tree on Wikipedia made specifically for following the lineage and contributing royals to this war. Even with that, it's hard to keep track of three generations of names like Richard, Edward, and George. But I think I did fine.
The White Queen
is told through the voice of Elizabeth Woodville, a widow of the House of Lancaster with two sons left fatherless from the war with the Yorks. She finds herself in the middle of her mother's plotting and is soon exerting her ambitions on the upstart York King Edward IV. Gregory imagines theirs being a true romance, despite Edward's kingly indulgence of other women--she manages to make Edward and Elizabeth's relationship seem much deeper than political ambition. They are married in secret--an act which eventually comes back to haunt them and puts their positions in danger. Rumors and scandals spread by rivals--even Edward's own brother--threaten to overturn Elizabeth's good luck and the safety of her large family of heirs.
Among the accusations is a cry of witchcraft at the hand of her mother, Jacquetta, who believes herself to be a descendant of Melusina, the mythic influence of The Little Mermaid fairy tale. Wielding strange beliefs in the power of her little spells and enchantments, the inclusion of this in the text adds an elusive and magical femininity to
The White Queen
and like Philippa Gregory's other books, both confirms and denies age old questions of the wickedness once believed to be punishable only by drowning or burning. It's just as easy to believe in the childhood mysteries and superstitions drawn out into her burgeoning womanhood as it is to think Elizabeth's successes and failures are the result of her and her mother's ambitious and well thought out machinations.
If I read correctly, there are also references to stories of Cinderella and real-life influences for the myth of Robin Hood. Belief in fairy tales or not, they add an ambiance and counter the surprisingly bloody and graphic battle scenes Gregory writes with the confidence of a writer who's been doing it her whole life. I've read eight of her books--in none of them do I remember ever reading the specifics on combat. That she does venture bravely into that arena emphasizes the extent of the war fueled by the political ambitions of the York and Lancaster families. If she hadn't, I don't think I would have understood the gravity, the severity, or the consequence of the war as much. I'm grateful and impressed--Gregory has definitely gone up a notch in my book. She reenforces her existing mastery of writing scandal, intrigue, romance, and the political maneuvering and flirtations of the court. But she also shows off skills I never knew she had; the darker side of Gregory's writing is just as inviting as it is graphic.
I think it's this addition to the book and the almost magical realism of the Rivers family and the storms they wield that make this a really spectacular first part in a trilogy (The Cousins War) that will include two other titles:
The Red Queen
and
The White Princess
. Of course, Philippa Gregory's mastery over English history and phenomenal research makes for spell-binding historical fictions when combined with her superb storytelling and attention to the type of detail that adds veracity and momentum to every one of her books.
It helps that she wrote about such a tumultuous and dramatic time in English history--ripe for literary exploration. With the way she approaches her subjects and writes, I think Philippa Gregory could make almost any period in history sound scrumptious. That being said, the mysterious disappearance of the Princes in the Tower was an event way outside of my bubble of knowledge--I admit, I cheated and Googled the phrase to learn what about their fate has become so profound. After reading the book, I'm tickled to learn that Gregory has intertwined their fictitious fate with that of Henry VIII in
The Other Boleyn Girl
who blames Anne Boleyn for his impotence and her inability to produce a healthy heir. I had to laugh as I read the curses of Elizabeth and her daughter. After all, Henry VIII, if Elizabeth's magic is to be believed, has the right to place the blame on his troubles elsewhere--he's just blamed the wrong woman is all!
In any event, I completely recommend this book to fans of historical fiction and anyone interested in reading a riveting story of love, jealousy, and vengeance. And I absolutely recommend this to Philippa Gregory fans. She's reinvented herself in this one, I think and proves she can use fairy tales, romance, and gore in the same book and make it all completely plausible. I can't say enough how much I loved this book. You should go pre-order it right now.
Right now
.